FY 21 Quality of Care Report
CHR's mission is to help adults, children and families find Real Hope for the challenges of Real Life through an array of community-based mental health, substance use, child welfare, supportive housing, foster care, prevention and wellness services, and integrated care.  Our name embodies our commitment to community-based care, instilling hope for a healthy, happy and productive future, and utilizing all available resources to achieve change.  CHR is proud to provide services that achieve Real Quality with Real Results.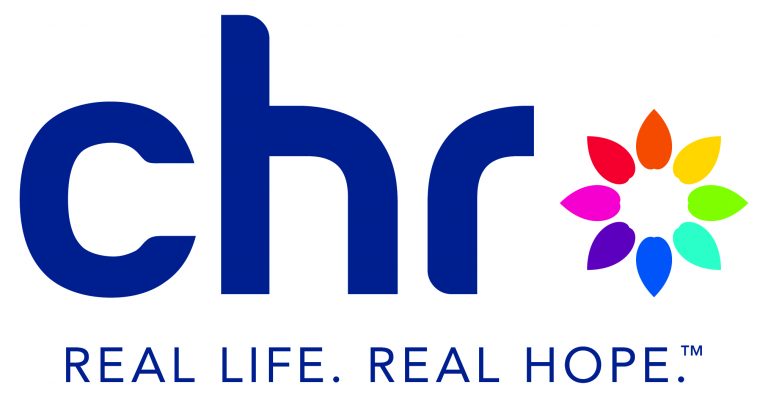 Dear Friends,
No matter what challenges emerge, CHR's essential healthcare heroes cannot be stopped. Over the last year, as the pandemic continued and the need for mental health and addiction services surged, CHR provided life-saving services to thousands of children, families and adults in person, via telehealth, in schools, in homes, at homeless shelters, in collaboration with local police departments and much more.
As you will see below, CHR continued to earn high satisfaction rates from the individuals we serve and was once again named a Top Workplace among all large employers and the highest ranking human service provider. None of this was easy during a time of workforce shortages and increased financial pressures, but our heroes pressed on.
Equally earning the title of hero, are friends and donors like you who stood with CHR throughout the pandemic. Your generosity helps people of all ages find health, happiness and recovery every day. Thank you so much! Rest assured, we will never stop working to fulfill CHR's mission of providing Real Hope for Real Life. Nothing can stop us.
Best Regards,
Heather Gates
President/CEO
Michael Kearney
Chair, CHR Board of Directors
7 Police Departments: CHR crisis clinicians are working side-by-side with Police Officers in 7 local Police Departments to respond to individuals experiencing behavioral health emergencies, and also providing essential follow-up care to link individuals to community-based services. These collaborations have been very well received and allow Police Officers to focus on safety issues while CHR clinicians help individuals who are in crisis.
35 Schools: CHR clinicians are now based in 35 schools throughout eastern and central CT to provide on-site behavioral health services for the convenience of children, teens and families.
National Recognition: CHR was recognized as one of the top addiction services providers in the country, by a 2021 survey conducted by Newsweek. Special recognition went to CHR's Roots to Recovery residential program for men in Willimantic. The award was based on data related to peer recommendations, quality data and accreditation.
Top Workplace: For the 8th year in a row, CHR was named a Top Workplace among large employers in CT and was ranked as the top human service provider. In addition, Heather Gates, President and CEO, was named the Top Leader among large employers for the second time!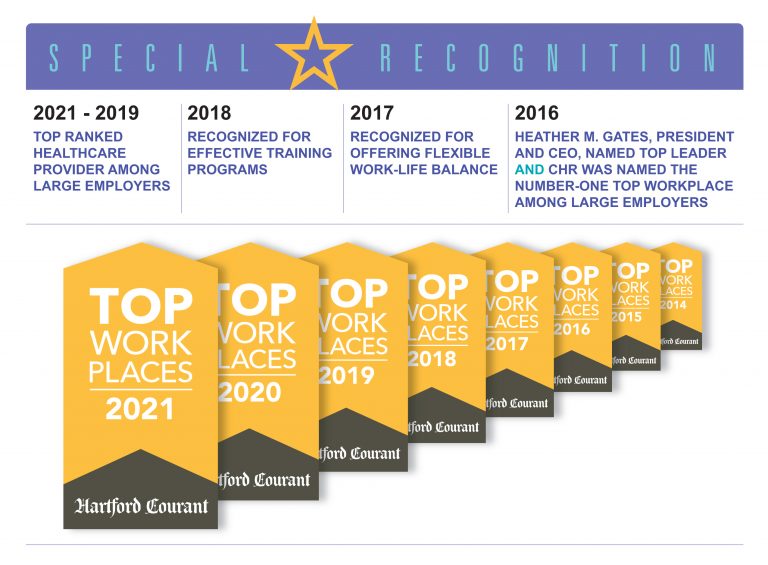 Becoming a More Just and Equitable Agency: CHR continued to make strides to become a more just and equitable workplace and service provider over the last year. Guiding this important work is Turkessa Antrum, Senior Vice President of Human Resources who was named Chief Diversity Officer; Ngina McMillian, Director of DE&I, who joined CHR with years of relevant DE&I experience; and a revitalized Diversity Council that now includes more than 30 employees. In addition, CHR is working with a local consulting group, Leading Culture Solutions, to provide research and thought-provoking learning opportunities for our staff, all of which are now underway.
Housing & Promise House: CHR's housing services continue to grow each year, offering individuals and families a range of services to avoid homelessness and find safe and affordable housing. In 2021, CHR opened Promise House, an apartment building in Manchester to provide housing for young adults who are experiencing homelessness, as well as support services to help young adults attain education, job training, healthcare services and more – all with the goal of helping young adults eventually move on and lead independent lives.