Check out photos from our 2022 Steam Train Half Marathon!
Can you beat the train? Find out during CHR's Steam Train Half Marathon and Relay!
Proceeds will benefit Community Health Resources (CHR), an essential behavioral healthcare provider that has been here for the community throughout the pandemic, as well as two local nonprofits: The Connecticut River Museum in Essex and the Deep River Fire Department.
Steam Train Half Marathon and Relay Pricing: ($75 before April 8; $85 after April 9) Virtual Half Marathon ($40)
Spectators can ride along on the steam train for $25; tickets may be purchased through the Essex Steam Train & Riverboat: https://essex-steam-train-riverboat.myshopify.com/products/beat-the-steamie-saturday-april-23-2022-7-45-am 
• Health and safety measures will be in effect to allow for social distancing
• Runners are requested to wear masks in the corral starting area
• Pre-event registration is required through www.chrhealth.org
• Race starts at 8 a.m. from the Essex Steam Train Station, 1 Railroad Ave., Essex, CT
VIRTUAL Locomotion Fitness Challenge (suggested donation of $35)
• Open to people of all ages and fitness levels
• Complete daily challenges that include walking, yoga, etc. every day for 2 weeks
• To register, CLICK HERE!
All Participants:
• Receive a package of great swag, including an event tee shirt, coffee mug, and finishers medal
• Support a great cause: CHR is meeting the behavioral healthcare needs of our state!
• Runners who complete the half marathon or relay in less than 2 hours and 30 minutes will receive
a commemorative train whistle
• Contact Race Director Erin Prather at steamtrainhalfmarathon@gmail.com for questions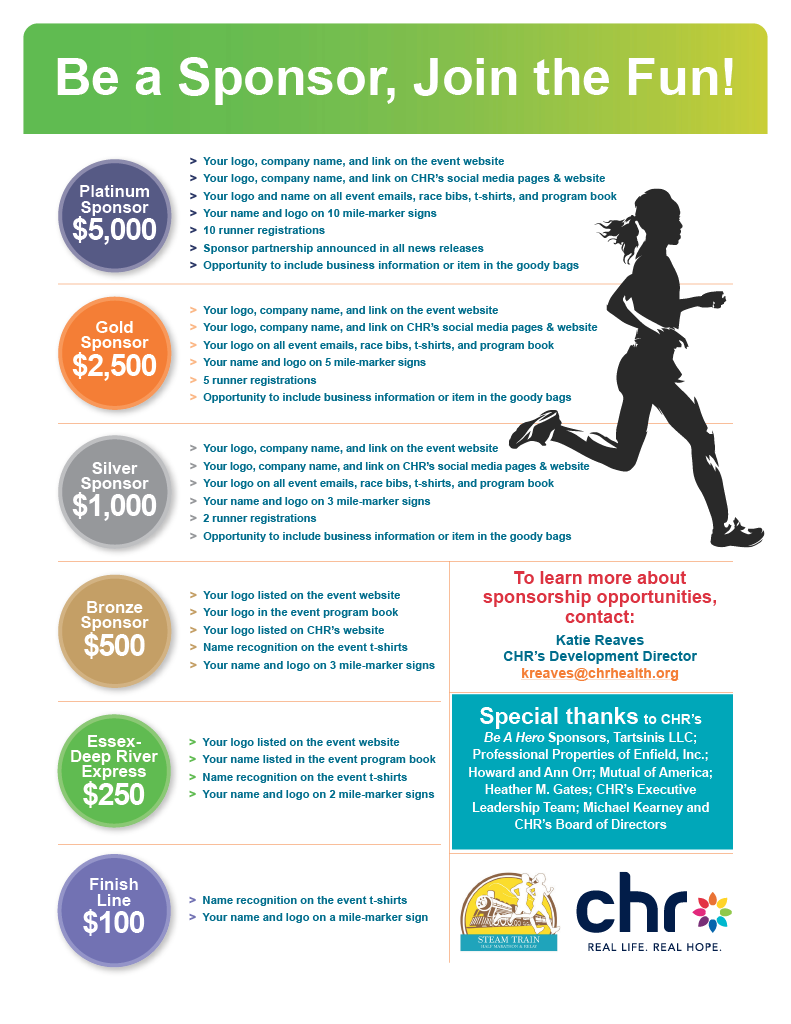 Thank You To Our Sponsors!