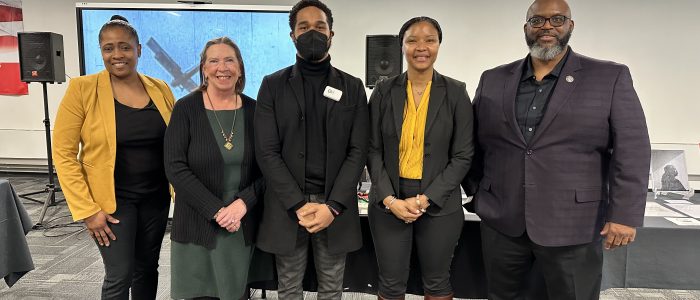 Pictured in the photo from left to right:
Ngina McMillian, CHR's Director of Diversity Equity & Inclusion; Heather Gates, CHR's President & CEO; Tre Vaughn, True Black History Museum; Turkessa Antrum, CHR's Chief Human Resources Officer; and Fred Saffold III, Founder of True Black History Museum
It was such a privilege for Community Health Resources (CHR) to partner with the True Black History Museum on February 27 in honor of Black History Month. The event featured a presentation led by Fred Saffold, activist and founder of the True Black History Museum, and an exhibit titled "A Tribute to the African-American Journey," featuring over 150 artifacts, and includes original documents from historic figures such Martin Luther King Jr., Mary McLeod Bethune, Booker T. Washington, Rosa Parks, George Washington Carver, Angela Davis, President Barack Obama, and many other great leaders. The True Black History Museum is an acclaimed traveling museum that teaches true Black history through the use of rare and authentic artifacts. For the last two years, they have presented thought-provoking presentations to the CHR community via Zoom. This year, we were able to experience the presentation and exhibit in person at Goodwin College. Learn more about the True Black History Museum by visiting their website here.