JULY 18, 2017
At 27, Catherine Kriss had an apartment of her own and a job she loved at an insurance brokerage firm. But she was unable to quiet the paranoia that increasingly overtook her thoughts; eventually, she lost her job and her apartment and spent her days wandering the streets.
After a stay in a psychiatric hospital, Kriss was able to rebuild her life, which she attributes at least partially to the support she receives at The Second Wind Clubhouse, a state-funded rehabilitation center for people with serious mental illness.
"It is my home away from home, it is my family," said Kriss, who is now 52.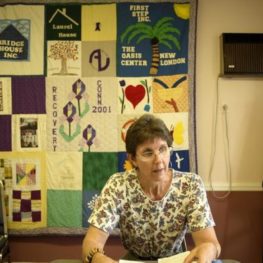 The center, like dozens of the state-funded services for children, the elderly and people with mental illness and developmental disabilities, faces a shaky future. Because the legislature failed to pass a budget before the start of the new fiscal year on July 1, the program, which serves about 120 adults in north central Connecticut, has received only enough funding to make it through the next 30 days. "We don't know what's going to happen on Aug. 1," said Heather Gates, the president and CEO of Community Health Resources, the agency that runs the Clubhouse.
Nonprofit providers that have contracts with the state to serve people with intellectual and developmental disabilities already are making plans to curtail services in response to funding cuts and the imposition of six unpaid furlough days. Oak Hill, which operates group homes for developmentally disabled adults and children, mental health group homes, in-home support programs and community case management services, has begun the process of closing a Birth to Three program, four group homes and two day programs, said CEO Barry Simon.
Among those caught in the budget turmoil is Andy Puglisi, who will be uprooted from the Southbury group home that he has lived in for the past 18 years. Puglisi, who is 52, has a number of physical and psychological disabilities, including cerebral palsy, seizure disorder and a form of blindness; the disruption will be devastating to him, said his mother, Lois Nitch of Rocky Hill.
Nitch, who is 73, has found another home for her son, but that will likely mean leaving his three roommates. "I think this is going to break his heart," Nitch said. "And all because the damn legislature can't come together."
The state's current budget stalemate has exacerbated the long-standing financial struggles of nonprofit human service providers. "This is the straw that broke the camel's back," Simon said. Only twice in the past 12 years has Oak Hill received an increase in state funding for its programs; the rest of the time, reimbursement rates have remained flat or decreased, he said.
Simon's impatience with state policymakers was palpable. "I wish every single legislator had a mother, daughter, son, father, sister or brother living in a group home," he said. "You would see really different public policy taking place …t he fact they are not doing their jobs is incredible."
Several lawmakers said they share Simon's frustration. "My area doesn't have a lot of state services," said Rep. Patrick Boyd, a Pomfret Democrat. "Mental health is managed by great nonprofits, and the executive order is hurting them big time." The Arc Quinebaug Valley, a nonprofit serving people with intellectual and developmental disabilities in northeastern Connecticut, is facing layoffs and the closure of group homes if lawmakers don't come to a consensus on a budget proposal soon, he said.
Rep. Cathy Abercrombie, co-chairwoman of the legislature's human service committee, said cutting safety-net services is less politically risky than slashing municipal aid. "They have no protection. For me personally, it is very frustrating. Even some of my own members [of the General Assembly] don't understand the ramifications of these cuts." Instead of slashing services, Abercrombie supports collecting tolls on Connecticut highways and legalizing and taxing marijuana as ways for the state to generate new revenue.
A spokesman for Democratic Gov. Dannel P. Malloy said the legislature's inaction on the budget left the governor no choice but to keep state government running through an executive order, a limited tool under which he cannot raise revenue, shift funds or adopt other cost-saving strategies.
"As Gov. Malloy has said many times, the Executive Order Resource Allocation Plan was not his preference," said Chris McClure, the spokesman. "Unfortunately, the legislature did not elect to take up the [provisional] budget proposed by the governor, which would have made these drastic cuts much less severe. With rising fixed costs, eroding revenues and limited powers, the executive authority does not provide flexibility for allotting funds. Inaction was not an option for us and we needed to sharply reduce spending in many areas — including spending that we all agree is important and worthwhile."
"People Will Die"
On a recent weekday morning, the Community Health Resources clinic in Willimantic was buzzing with activity. The clinic provides a number of mental health services, including addiction treatment.
The state budget stalemate won't shut down the clinic's suboxone treatment program for opioid users because that's funded through a federal grant. But it will impact other support services, said Tracie Compositor of Ellington, a counselor for the program.
"If funding was cut and God forbid we lose a clinician that does x-amount of intakes a week, it pushes people's wait time out," said Compositor, who overcame her own struggle with addiction and now helps others. "During that wait time, folks would continue … to use … and people will die. That's a fact. Nine hundred and seventeen people died last year of overdoses … and from all reports were going to exceed that this year."
For the nonprofit providers, and those who rely on the services they provide, the uncertainty surrounding the budget deliberations in Hartford is creating significant anxiety. House Democratic leaders had initially hoped to convene on July 18 to resolve the budget impasse but it is now unclear what, if anything, lawmakers will do that day.
"We're trying to figure out is this a temporary thing?" said Eileen Healy, executive director of Independence Northwest, an advocacy group in Naugatuck that provides housing assistance to help people with disabilities live independently. "Is this is a cash flow issue? I've been informed there won't be any payments until there's a budget so the next step would be laying off staff or reducing their hours."
At the Clubhouse in Enfield, the clients and employees are also worried. "We need financial support, we need community support," said David Carmona, who is 40 and has a form of autism. "No one knows about this place and what it's all about."
The program operates on a budget of about $600,000 annually, a figure that hasn't changed much in years, Heather Gates said. In addition to providing a home for support groups, employment skills training sessions and life skills workshops for people with serious mental illness, the building serves as a community center. Lunch is served daily and people can drop in and hang out for as long as they please.
"If the clubhouse were to disappear, I don't know where everybody would go for those skills," said Catherine Kriss. Since she began coming here more than a decade ago, she's been able to hold down several volunteer positions, including serving on the board of the Enfield Historical Society.
If the center were to close, Kriss said she'd be at a loss. "I don't know what I would do, I would probably end up in some hospital somewhere," she said. "I have one foot in here and one foot out there and I need both places. I can't survive in the community alone. I need the warmth and support of the staff here."
Story reported by Daniela Altimari and Courant staff writer Christopher Keating contributed to this story.
To view this story online, please click here.
To watch Tracie Compositor, a Recovery Support Specialist with Community Health Resources, discusses the effect of potential budget cuts, please click here.