CHR Dedicates New Outpatient Site on 1310 Main Street in Willimantic
WILLIMANTIC, Conn. – Together with U.S. Congressman Joe Courtney and state and local officials, behavioral healthcare provider Community Health Resources (CHR) today officially dedicated its new outpatient building on 1310 Main Street in Willimantic.
The 11,000 square-foot building includes outpatient behavioral health services for children, families and adults in a welcoming and friendly environment. CHR opened the new site in spring of 2021, consolidating services from former locations in Mansfield and Valley Street in Willimantic. Due to pandemic-related challenges, the official ribbon-cutting was not held until today.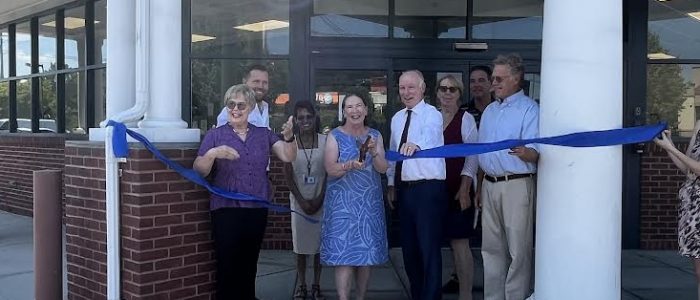 "We are delighted to finally celebrate the opening of this beautiful building," said Heather Gates, CHR's President and CEO. "CHR is committed to meeting the needs of children, families and adults in Willimantic whose lives have been touched by mental illness, addiction, trauma and more. We're proud to be delivering services that meet their needs in this convenient and welcoming location."
Services available at CHR include outpatient therapy for children, teens, families and adults, including treatment for anxiety, depression, issues related to school and much more. For adults, CHR offers comprehensive substance use treatments, including care for opioid addictions and peer support services. Of note, a Newsweek survey in 2021 named CHR one of the best addiction treatment centers in CT and the country.
"The last few years have been very hard for people of all ages," Gates said. "We are honored to serve the Willimantic community with personalized, effective treatments to help people live their best lives. We deeply believe that recovery is possible for everyone who seeks our services."
Focus on Trauma Services for Children
Thanks to a recently announced $2 million, 5-year grant to CHR from the U.S. Substance Abuse and Mental Health Services Administration (SAMHSA), children seen in the Willimantic location who have experienced trauma will now have access to five evidence-based, trauma-focused treatments. The grant begins later this fall.
"We know these are difficult times for children and teens and are so pleased to launch new trauma-focused care for youth in the region," Gates said.
About CHR: Now offering services through the convenience of telehealth as well as in-person care, CHR is Connecticut's most comprehensive, nonprofit behavioral healthcare agency. In addition, CHR was the first nonprofit agency in CT to meet all of the rigorous federal criteria as a Certified Community Behavioral Health Clinic and has repeatedly been named among the Top Workplaces in the state. Learn more at www.chrhealth.org.