NOVEMBER 18, 2016
Hartford, Conn. – CHR is teaming with Bomba 97.1 FM, Connecticut's only Spanish FM station, to promote CHR's new Latino Clinic for Children and Families located at 30 Arbor Street in Hartford. Bomba is a very popular station with a deep reach in Hartford's growing Hispanic community.
CHR's ad features Aida Diaz-LaCilento, Clinical Supervisor at the Latino Clinic for Children and Families who explains some of the vital services offered in CHR's completely bilingual and bi-cultural setting. Click the ad below to learn more or call 860.904-7890.
"All of our therapists are bilingual and are here to help you and your family overcome the challenges that so many of us face today – including problems in school, depression, anxiety, bullying, parenting struggles and more," Diaz-LaCilnto explains. CHR's Latino Clinic for Children and Families opened earlier this year with support from the Hartford Foundation for Public Giving.​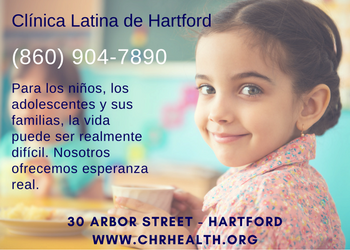 About CHR
Recently voted as the number-one Top Workplace in the region in the Hartford Courant's annual survey, CHR helps adults, children and families find real hope for the challenges of real life through an array of community-based mental health, substance use, child welfare, supportive housing, foster care, and prevention and wellness programs. It is the most comprehensive behavioral healthcare agency in Connecticut, serving more than 22,000 individuals each year with locations throughout eastern and central Connecticut. Learn more at https://www.chrhealth.org.