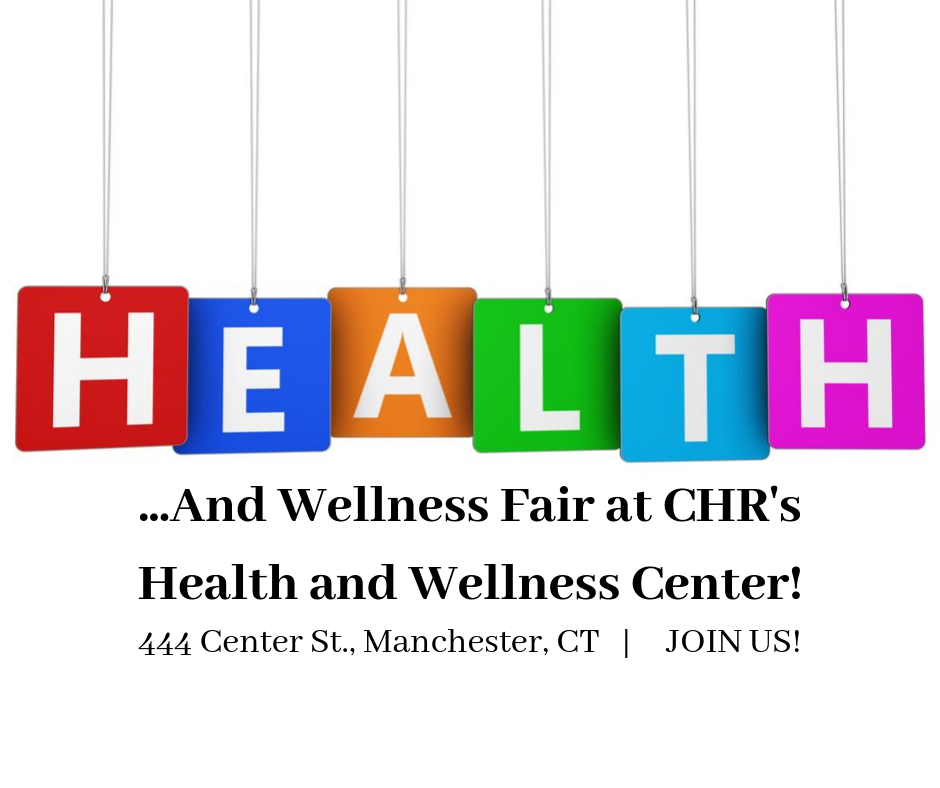 Dental and Early Detection Cancer Screenings | Narcan Information
Opioid Use Disorder Services | Wellness Information & Exercise Tips | And More!!!
Manchester, CT — CHR, a comprehensive, non-profit behavioral healthcare provider, will host a Health and Wellness Fair on Friday, October 4, from 11 a.m. to 3 p.m., at its Center for Health and Wellness on 444 Center Street in Manchester. Everyone is welcome!
The Health and Wellness Fair will include a variety of free health screenings, flu shots, life-saving information about Narcan, a drug take-back collection site, free fitness demonstrations and classes, refreshments and much more.
"We've organized the event to help educate our neighbors in Manchester and the surrounding towns about the services available at CHR and to help to promote healthy living," explains Peggy Winsman, LCSW, a program director with CHR. "It will be a fun, interactive and informative event."
Activities at the Health and Wellness Fair will include information about a wide range of services available to individuals and families through CHR; free dental screenings and health information through First Choice Health Centers; health activities including Zumba, yoga, guided meditation, ear acupuncture, Sound Healing, chair massage and more. In addition, many local health partners will be providing information including Genoa Healthcare; Talcott Family Chiropractic; Manchester Community College, ECHN and more!
Refreshments and activities for children, including face painting, will also be available.
The Center for Health and Wellness is CHR's flagship outpatient office, offering a range of behavioral health services for children, families and adults. For the convenience of the community, the facility includes an on-site pharmacy through Genoa Healthcare, as well as on-site primary care services through a satellite office of First Choice Health Centers.
Both Genoa and First Choice are participating in the Health Fair on Oct. 4. Genoa is offering the free flu shots, drug take-back and Narcan information. First Choice Health Centers is bringing its mobile dental van for free screenings.
Please contact Peggy Winsman, LCSW, to participate in this event or for questions at:
860.730.8835 or PWinsman@chrhealth.org.
*Made possible by CHR and a grant from the H. Louise Ruddell Charitable Fund, part of the Hartford Foundation for Public Giving.
About CHR:
CHR is the most comprehensive behavioral healthcare agency in Connecticut, offering a broad array of services for adults, children and families whose lives have been touched by mental illness, substance use, trauma and more. Voted as the number-one Top Workplace in the region, CHR serves more than 26,000 adults individuals every year. Learn more at www.chrhealth.org.
CHR's tax identification number is 06-6082527 and donations to CHR are tax-deductible.