PUTNAM, Conn. – Behavioral healthcare provider Community Health Resources (CHR) celebrated the completion of renovations throughout its Putnam campus yesterday alongside members of the Northeastern Connecticut Chamber of Commerce, Centreville Bank, as well as with many other proud CHR donors and supporters.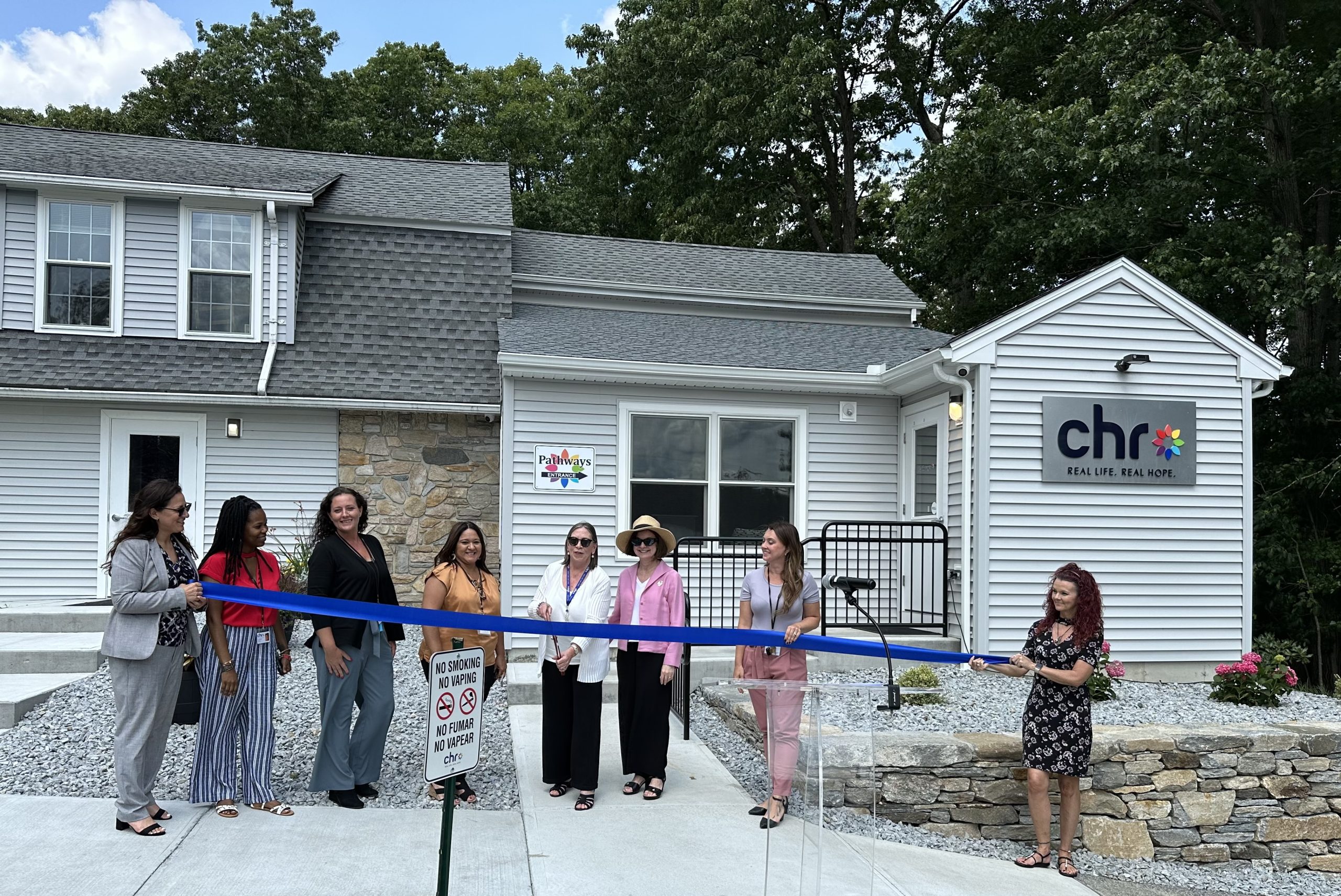 CHR recently completed renovations to expand the Pathways Outpatient Medication for Opioid Use Disorders (MOUD) Program, as well as the residential treatment programs for women with substance use disorders. Construction began last fall using a phased approach as the space is used by residents. Renovations included an upgrade of the dining hall to include an outdoor walk-in freezer, larger preparation areas, a client kitchenette, as well as a functional dining and group room. Other renovations included building an additional dosing window and upgrading staff offices and group rooms for Pathways.
To help individuals with opioid use disorders, Pathways offers personalized, effective MOUD services for men and women. Pathways also provides MAT (primarily methadone), individual therapy, group counseling, psycho-educational groups, individualized treatment planning, recovery coaching, and ongoing assessment and referrals.
Also on the Putnam campus, CHR runs two intensive, residential substance use treatment programs for women, including a unique program for women who are pregnant or have young children.
"We are delighted to celebrate all of these updates and renovations to our Putnam campus," said Heather Gates, CHR's President and CEO. "I'm grateful to everyone who helped make these improvements a reality and proud of all the healthcare heroes who work in CHR's Putnam programs 24/7 to provide hope and effective treatments to hundreds of people every year," she said.
"I also applaud all of the individuals who come here for treatment and courageously take the first steps toward health and recovery," she added. "CHR is here as a resource for the entire community."
Throughout eastern and central CT, CHR offers outpatient therapy for children, teens, families and adults, including treatment for anxiety, depression, issues related to school and much more. For adults, CHR offers comprehensive substance use treatments, including care for opioid addictions and peer support services. Of note, a Newsweek survey in 2021 and 2022 named CHR one of the best addiction treatment centers in CT and the country.
Impact of New Grant from Centreville Bank
Also presented at the celebration was a $15,000 check from Centreville Bank, awarded to help women and families served at the Putnam campus find safe and affordable housing after completing intensive, life-saving substance use treatment. This grant will be critical in helping women and families start over with a positive beginning.
About CHR: CHR is Connecticut's most comprehensive, nonprofit behavioral healthcare agency, offering a broad range of services for people of all ages whose lives have been touched by mental illness, addiction, trauma, homelessness and more. Accredited by The Joint Commission, CHR was the first nonprofit in CT to meet all of the rigorous federal criteria as a Certified Community Behavioral Health Clinic and has repeatedly been named among the Top Workplaces in the state. Learn more at www.chrhealth.org.
August 4, 2023
For more information, contact mmcguire@chrhealth.org