Journal Inquirer, January 20th, 2018
SOMERS — Heather Modzelewski didn't expect her Thanksgiving Day visit to New York City with her two children to inspire an initiative to help those in need.
Modzelewski, who works as a paraprofessional in the East Hartford school system, took her son, Keegan, 13, an eighth-grader at Mabelle B. Avery Middle School, and her daughter, Peyten, 7, a second-grader at Somers Elementary School, on their first trip to the city to see the Macy's Thanksgiving Day parade.
While walking past a bearded homeless man seated on cardboard on a sidewalk off of Times Square, Modzelewski said her children were visibly upset and concerned.
She said her daughter "didn't know what to do with her feelings." She gave Peyten some change to give to the man, and the family bought him a hot coffee.
On the bus ride home from the city, her children still had their minds on the those in need.
"They're both compassionate kids," Modzelewski said. "They didn't know what to do or how to help."
Once at home, the family brainstormed some ideas, and Modzelewski suggested filling bags with hygiene products to distribute to those in need, which her children thought was a great idea.
She ran the idea by a friend, Karin Lawlor, who works for Community Health Resources in Enfield and decided to donate the products there.
Community Health Resources' mission is to "help adults, children, and families find real hope for the challenges of real life through an array of community-based mental health, substance use, child welfare, supportive housing, foster care, prevention and wellness services, and integrated care," according to its website,
https://www.chrhealth.org/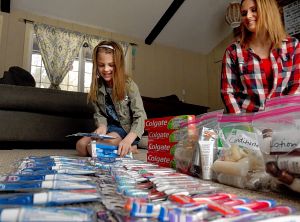 "She thought it was fantastic," Modzelewski said of her friend's thoughts on the collection of hygiene products.
Lawlor, who is a caseworker for Community Health Resources, said Friday that she is still working out the best way to deliver the bags, but that they will be benefiting those in need.
On Jan. 1 Modzelewski shared on Facebook the story of her family's visit to New York City and the plan to help the less fortunate.
On the Somers Open Forum's Facebook page, where she posted the story, Modzelewski asked anyone interested in joining the family in the plan to message her privately to obtain her street address. She told them that there would be a basket on her home's front porch for the collection of hygienic items such as hand warmers, washcloths, travel-size soaps, shampoos and conditioners, toothbrushes, toothpaste, zip-close bags, and deodorant.
"We have people sharing the post; we're getting an outpouring of support," Modzelewski said.
She said that on the day she posted the story, she came home to find the basket filled with more than 20 washcloths, 25 bars of soap, and 20 toothbrushes along with toothpaste.
Her goal is to fill at least 200 bags with at least two of each product collected.
She said that when she called her children to the porch to see the first items dropped off, they were filled with excitement.
"Peyten's look was priceless," she said.
Her children will help her make the bags, and Modzelewski plans to deliver them to Community Health Resources in mid-February.
She's also interested in continuing the project next winter.
"The kids are really involved in different community activities, and this would be amazing to continue," she said.
Modzelewski said Thursday that the Somers Public Library, located at 2 Vision Blvd, and Geissler's Supermarket at 95 South Road, will also be collecting donations for the hygiene bags.
Anyone interested in dropping off hygiene products for those in need may email Modzelewski at hmodz79@gmail.com for more information about what to donate and where to drop off supplies.